9 min read
HubSpot vs WordPress: A Comparison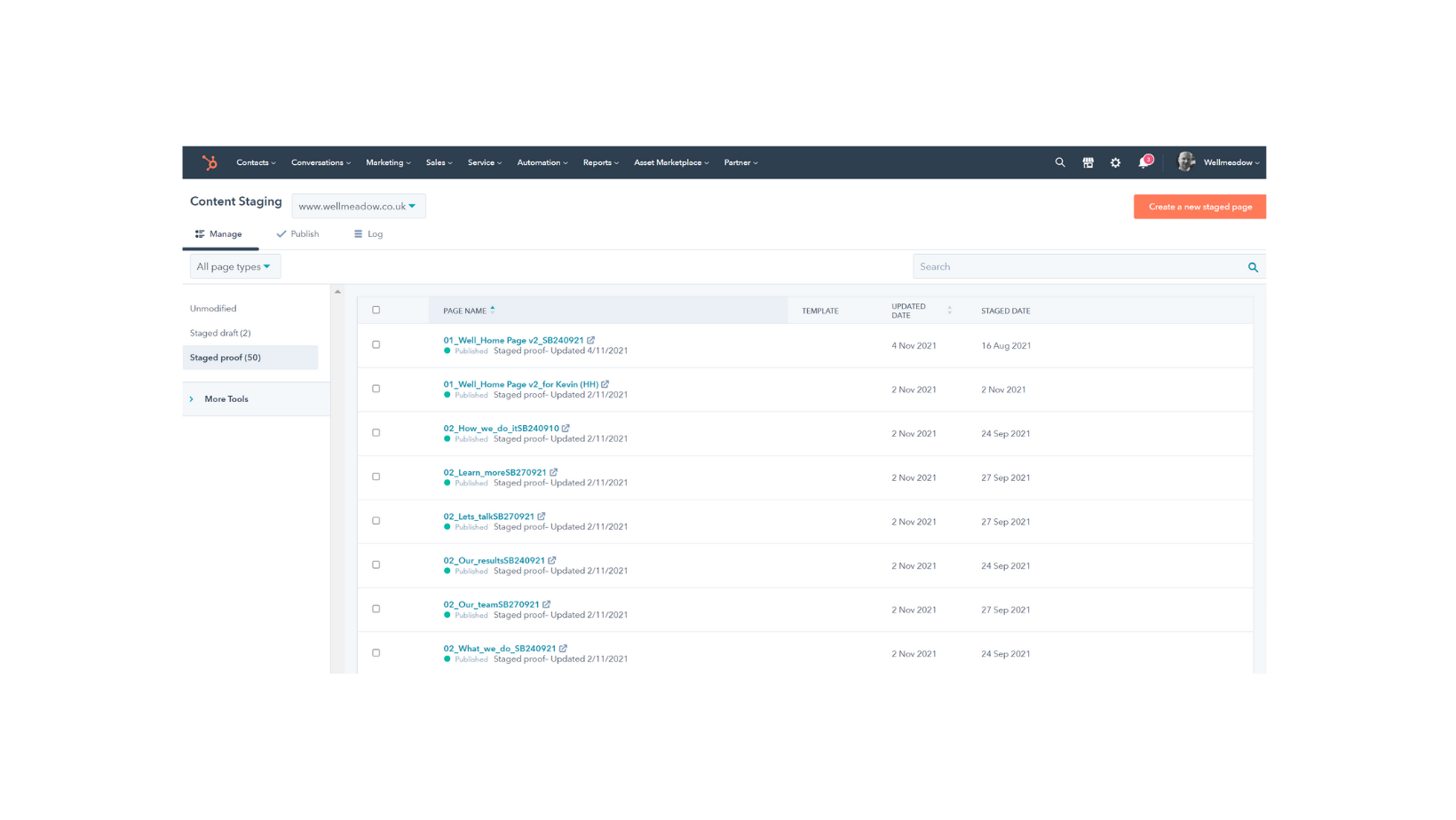 HubSpot and WordPress are two of the leading CMS available to support the future growth of business websites.

'

For those not familiar with CMS (content management systems), they allow businesses and individuals to build, edit, and publish websites with no coding required.

The complicated process of building a website is removed by a variety of integrated tools and systems. This allows changes to be easily made to web copy and design by the business owner or marketing team.

HubSpot and WordPress account for a large proportion of business websites. Historically, HubSpot's CMS, with its £300/month price tag has not usually been considered as an alternative to hosting/building a site on Wordpress. However, HubSpot's recently launched CMS Starter tier (from £20/month) presents a more comparable option to a Wordpress CMS.

Deciding which is best for you depends on a range of factors, such as your budget, objectives, and desired level of control. To help, we have assessed each of their strengths and weaknesses with regard to their themes, security, SEO tools, marketing features, and cost:
Target Audience
HubSpot
HubSpot's CMS (known as CMS Hub) was created specifically for marketers to provide them with the ability to update their websites quickly.
It is built on HubSpot's CRM (customer relationship management) system to form an integrated and connected tool suite, consisting of four other essential products: Marketing Hub, Sales Hub, Servicer Hub, and Operations Hub.

WORDPRESS
WordPress is the most popular CMS software, powering more than 40% of the top 10 million websites globally as of June 2021.
Growing from a platform for bloggers, it is now used by many businesses for their website infrastructure. It is supported by thousands of developers, it has a wide range of custom solutions and offers many useful tools in the form of plugins and widgets.
Themes and Templates
HubSpot
HubSpot's drag and drop editing tool provides an intuitive and easy way to select standard page features such as menus, social media buttons, subscription forms, CTAs, and images.
It also allows you to view the web page's appearance in real time whilst you are editing.
It offers a theme marketplace similar to WordPress, with over 5000 templates to choose from. However, as with most templates only a limited amount of customisation is allowed, meaning that additional functionality requires coding.
In this event, a specialised HubSpot developer can be hired as HubSpot use their own propriety coding language called HubL.
✔️ Intuitive drag and drop editing tool
✔️ Web page previewing feature
✔️ Over 5000 templates to choose from
❌ Limited template customisation
❌ Requires a specialist HubSpot developer to edit code
WordPress
Web pages on WordPress are simple to set up and run, but plugins are needed for more sophisticated functions, such as forms and CTAs. It offers an extensive range of add-ons though, with more than 58,000 to be found on their marketplace.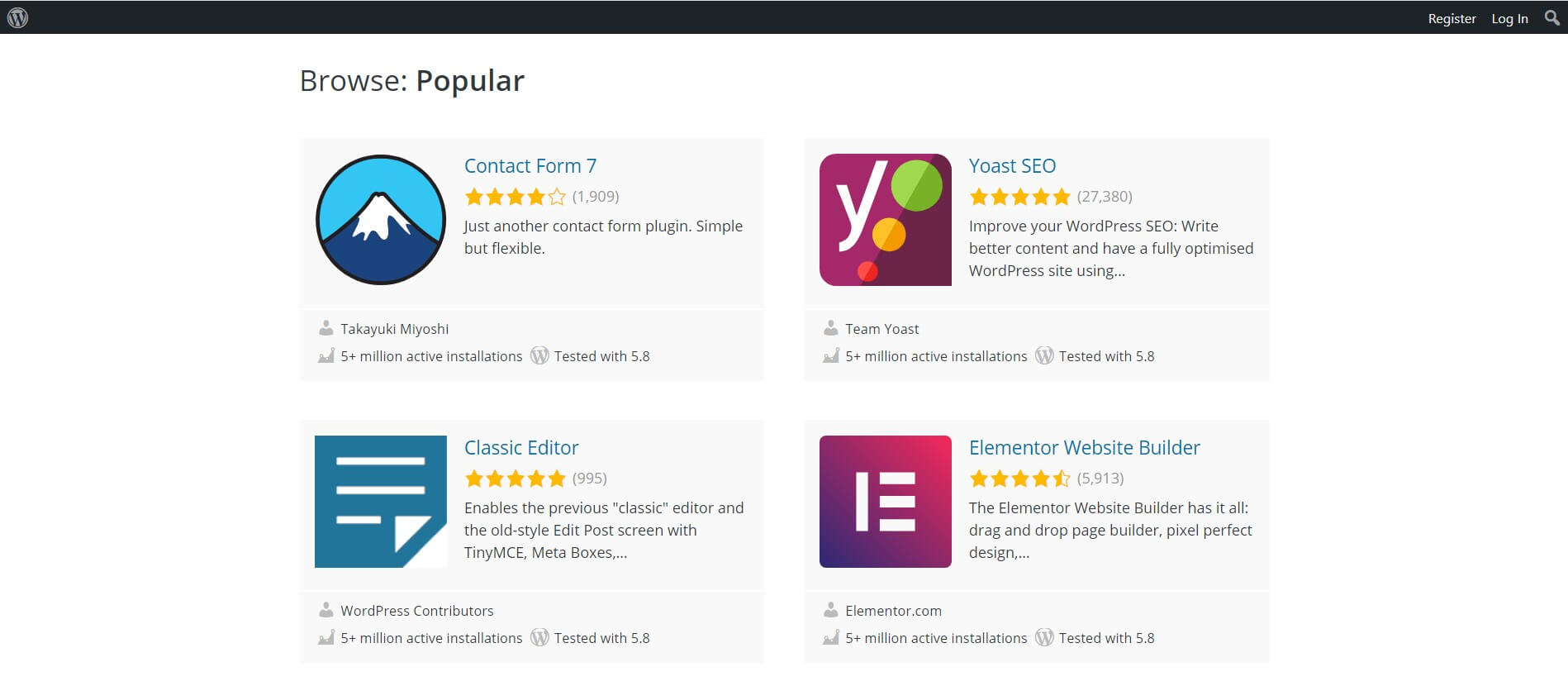 Available features rely on theme choice, with some allowing active previews of an unpublished page while others do not. There are thousands of themes to choose from, but most that are free are very basic and do not allow much customization. As a result, many users opt for a paid or custom theme.
As WordPress is open-source, and is built largely on PHP (a common web-based programming language), it has a large community of developers.
This means there are many themes and apps available. Given the wider application of PHP compared to HubL, it may be more straightforward to hire a developer should you require customisation of your website.
✔️ Over 58,000 plugins to choose from
✔️Open source platform - easy to edit code
❌ Offers limited in-built features
❌ Most free themes are basic with little room for customization
SEO and Analytics
HubSpot
HubSpot has built-in SEO and analytics tools that provide many insights such as monthly search data, popular search terms, page optimisation tips, topic clusters, keyword research, and ranking metrics for each page, such as impressions and clickthrough rates.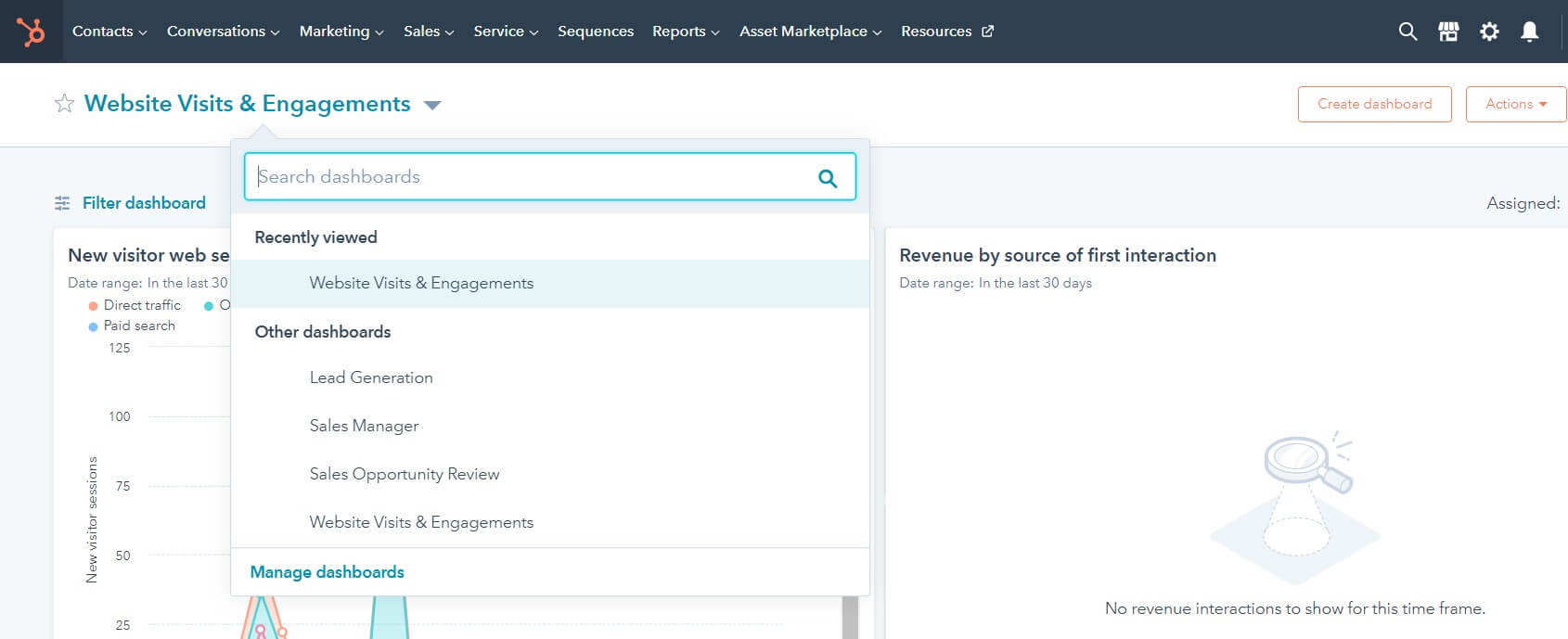 Also, HubSpot allows users to create custom dashboards so they can personalise their analytics and access the data needed for their inbound strategy.
✔️ Built-in SEO and analytics tools
✔️ Customizable analytics dashboard
---
Read More:
Our top 5 free copywriting tools for inbound marketers
How the inbound methodology can revive your SME's inbound strategy
Our inbound marketing glossary
---
WordPress
WordPress has no built-in SEO tools, so plugins like SEMrush or Yoast SEO are required. These are highly effective tools for monitoring SEO on a page-by-page basis.
Often these plugins offer a free version, however additional functionality and SEO insights comes at a price.
Another thing to consider is that each plugin needs to be monitored for its impact on website performance. Plugins can cause website issues such as slow loading times, which can effect SEO performance and clickthrough rates - according to Google, 53% of visitors will leave a website if it does not load in 3 seconds or less.
✔️ SEO plugins are easy to download
❌ No built-in SEO or analytics tools
❌ Plugins can cause websites to crash and load slowly
Website Security
HubSpot
HubSpot is a secure and safe CMS platform. It is a closed-source program and they provide a 24/7 operative security team to monitor and prevent any security problems.
HubSpot automatically provides a standard SAN SSL (Secured Socket Layer) certificate through DigiCert when you connect your domain to your HubSpot account.
✔️ Closed-source program
✔️ SSL
✔️ website monitored 24/7 by web security experts
WordPress
WordPress is an open-source platform. Users are responsible for their website's security, purchasing their own SSL, and ensuring their themes and plugins are kept updated to prevent cyber-attacks.
It can be complex to put the security measures in place, but there are hosting platforms such as WP Engine that specialize in high-security solutions. It conveniently backs up WordPress website pages and detects issues in plugins.
✔️ Many platforms are available for WordPress that provide high-security solutions
❌ Users are made responsible for their website's security
MARKETING FEATURES
HUBSPOT
61% of marketers want better integration of tools, which is where HubSpot can help. Its marketing features are accessible from a central location and can be used alongside integrated apps and across the entire tool suite.
Some of its functions include:
Forms/smart forms

List segmentation

Mobile optimisation

Reporting dashboard and filtered analytics

Landing pages

Live chat

Email marketing automation

SEO recommendations

Google Search Console integration

Standard SSL certification

A/B testing

Video hosting and management

Social media integration

Custom domains
The ease and convenience of these in-built features reduces the time that is spent on sourcing marketing tools, leaving more time to focus on capturing leads, and analysing and improving conversions.
✔️ Marketing features accessible from a single location
✔️ Marketing tools work together with the CRM allowing personalisation of web pages
✔️ Offers an array of sophisticated marketing tools
WordPress
It does not have specialised built-in features. Users must alternate between multiple websites and platforms to use marketing functionalities, such as CRM and data systems, SEO suites, reporting tools, and social scheduling apps.
Some sophisticated features like mobile optimisation and A/B testing can require a software developer to enable them, but most services are available as plugins that easily integrate into WordPress.
✔️ There are many plugins that offer marketing tools
❌ Does not offer built-in marketing features
❌ Integration between CRM data and webpages more limited
Cost
HubSpot
Pricing has always been HubSpot's drawback, with their standard CMS package costing £297 a month (£3,564 a year), but their new Starter package costs just £19 a month.
It is good value for money as it includes all of the essential marketing tools and functions, permitting users to leverage the full platform and secure their content without requiring additional plugins.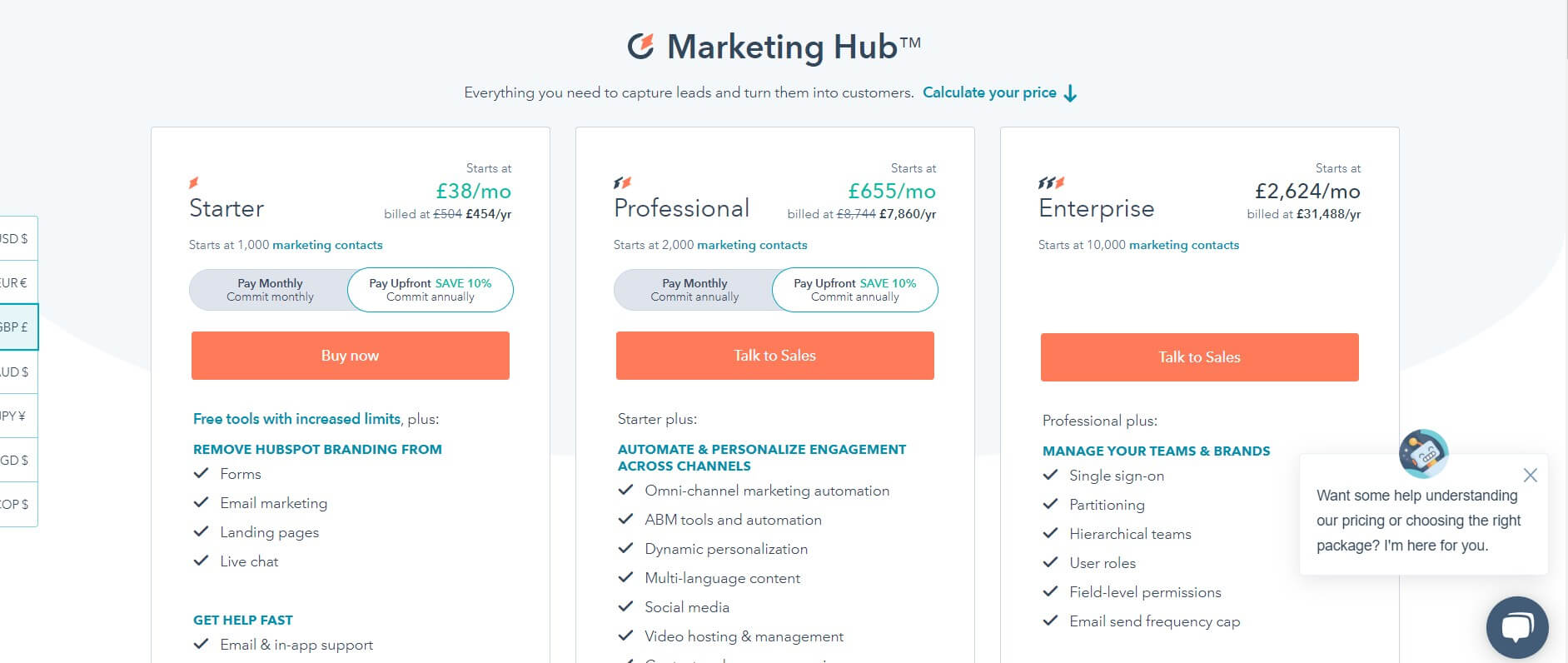 The Starter has its limitations however, allowing only 1000 contacts – go beyond that and users must subscribe to the Professional plan.
Additionally, users will need the more expensive plan to fully benefit from HubSpot's more advanced functions, such as automated workflows.
✔️ New HubSpot Starter package is very affordable (£19/month)
❌ HubSpot Starter has limited advanced functions
WordPress
WordPress is an ideal low-budget option, with its free version and affordable packages, such as its Business plan, which offers premium themes and Google analytics integration for just £20 a month.
However, the plugins required for website security and successful inbound marketing can rack up, with marketers using approximately 12 different tools to manage their content, data, and campaigns.
Monster Insights, a popular Google analytics plugin, starts at about £145 for its professional version, and Optin Monster charges £13 a month for its email marketing automation services. Many plugins have free versions though, such as Yoast.
✔️ Offers a free version and affordable paid packages
❌ Plugin costs to be mindful of
The verdict
There is a lot to consider when choosing a CMS, but ultimately it depends on your specific needs.
WordPress' easy-to-modify code and wide range of customisation options offers control and flexibility, whereas HubSpot provides integration and convenience with its connected platform and in-built tools.
The HubSpot Starter CMS pricing makes it a comparable website product to Wordpress. Whilst both website platforms allow businesses to scale, HubSpot's CMS probably allows for a smoother transition to increased functionality (albeit at a cost).
In the spirit of transparency, the website you're on is hosted on HubSpot! We've found it enables us to have greater control over our inbound marketing activities with its integrated CMS and CRM.
That being said, we also use a Wordpress site another business we own called Magic Minutes.
To find out more about HubSpot CMS, click on the button below to get in touch.