5 min read
Ever used Roblox to interview candidates?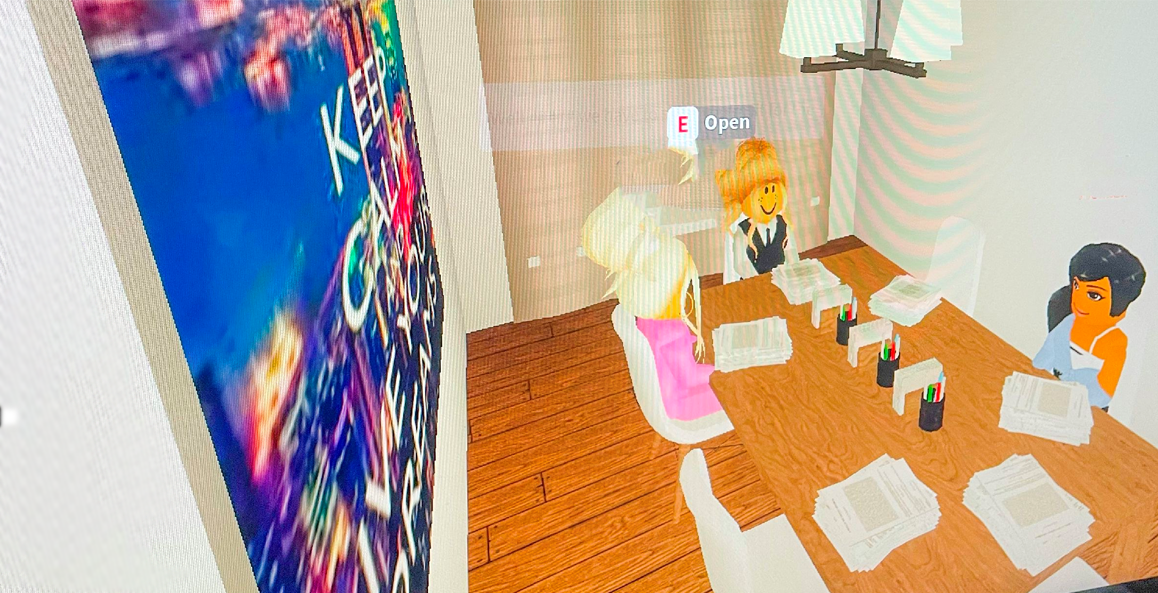 Ever used Roblox to interview candidates? My 10-year-old daughter just ran a recruitment process on Bloxburg and it got me thinking!
Last Saturday morning I came downstairs, blurry eyed and looking forward to my first cup of coffee.
I came into the kitchen and mustered a cheery "Good Morning" to my daughter, who was already up and online on Roblox. I know how this looks but it's lockdown, and we've adopted a pragmatic approach to keeping this ship's crew sane.
Normally, I would receive a cheerful greeting from her (she's been raised well), but on this occasion I was met with an intense scowl. This was followed with a "Dad, can you be quiet? I'm interviewing for a receptionist."!

Intrigued? Let me back this up.
Mention Roblox to 99% of parents and you will get a response that is a mixture of confusion, exasperation, with a bit curiosity thrown in. The incessant pestering for more time online and bartering for Robux (the virtual currency of the platform), have become the new status quo for parent-child relationships throughout the land.
I will admit, I have a Roblox account.
Obviously, this is strictly for research and supervision purposes. However, I do have some skills in the Roblox skate park and enjoy the occasional game of Piggy (in this game a cyborg Peppa Pig hunts you down whilst you try and escape from a house). It's the digital equivalent of hands-on parenting. (I don't care if it is a private server; your digital avatar is not going online dressed like that young lady!)
Still confused? Here's the definition of what Roblox is about from their website:
"Roblox is a global platform where millions of people gather together every day to imagine, create, and share experiences with each other in immersive, user-generated 3D worlds."
These shared experiences are certainly immersive. The kids seemed to enjoy playing "Adopt me", although I've decided not to take this too personally.
However, there is another side to all of this. The experience of watching my daughter engage with Roblox has been enlightening. I've seen her knowledge of computer programming increase, her creativity flourish, and she has become (more) entrepreneurial.

Let's pick the story back up.
One particular game, called Bloxburg allows players to build houses and other types of buildings. To add new features, players must go to work to earn the money to buy materials, pay the bills, and manage day-to-day life. All good training for adult life in my humble opinion.
Unbeknown to me, my daughter had set up a Bloxburg architectural practice. She designed and built houses whilst her friend/business partner did the interior design. The houses were so good that they were getting requests from their other friends to build homes for them. At current market rates, a 3D virtual house, in a leafy neighbourhood with good schools, will set you back about £4.
They had decided that they needed a receptionist to manage enquiries and look after the office (that is the digital, 3D-virtual office). What I had stumbled into that Saturday morning was the first of a series of interviews for this role.

As I watched the interview take place, it got me thinking about a couple of things that related to the future of our own recruitment process.

Firstly, what role does a digital avatar play in the future of recruitment (if any)?
Okay this may not be an immediate issue and maybe I've just watched "Ready Player One" too many times, but the digitalisation of work (and life) is happening at an increasing rate. McKinsey estimate that companies that are digital leaders in their sectors will see their profits grow three times faster than their less digitalised competitors. Additionally, staff employed by digital leaders will enjoy twice the wage growth which will have an impact on attracting the best talent.
In five to ten years, a new generation of employees will hit the market with significantly different expectations in areas such as use of technology to facilitate human interactions. I watch my eight-year-old son play Fortnite with his friends, watch YouTube, and speak to someone on WhatsApp – all at the same time. His level of expectation around communication and digital interactions exceed much of what I observe in many SME businesses.
What is also interesting is his use of online avatars (or skins) as a way of expressing himself online. It's yet to be seen how this online expression of his personality morphs with his offline identity.
As jobs become more digital and remote working increases, it will be interesting to see who gets interviewed; your online persona (or avatar), your physical self, or both.
Human avatars are already used to help streamline recruitment processes using software such as Shortlister. We have used VideoAsk to help us incorporate some human interaction into our own selection processes. However, this is all still stops short of a Roblox avatar interview!

Secondly, how values-led is our recruitment?
I noticed that in the interview room my daughter designed, she had put up a big poster that read "Keep calm and live your dreams".
Now I'm the first to critique the "put the values on a poster approach", as often they end up fading into the background. Organisational values help shape the culture and should be lived out. Leaders should be the first to set the example when it comes to values.
Bringing the values into the recruitment process is critical to ensure that the team you're trying to build is going to be aligned to the culture. We have used a culture analysis canvas to help us get to the big picture of what's going on in an organisation.
This can be extremely beneficial with regards to informing a recruitment process.
My daughter wants to be an architect; she's living this dream out at the moment in a virtual world, but the skills she's learning whilst doing so transfer into the world of old-fashioned physical work!
Conclusion
We've already adopted a number of different technologies help our recruitment process. From online questionnaires, video interviewing, and AI-based evaluation, we're always looking for ways to get deeper, more meaningful insights.
Am I going to run my next recruitment process using digital avatars? – Probably not! However, seeing how a Roblox interview works has certainly challenged me to keep innovating our own recruitment process.
Finally, if anyone can show me where the red key is so I can get out of the house before Piggy gets me, it would be greatly appreciated!
For an in depth guide for building the best process for your organisation, download a free copy of our recruitment eBook, 'Is It Time To Recruit Well?'.