5 min read
10 quick tips to make your next board meeting run better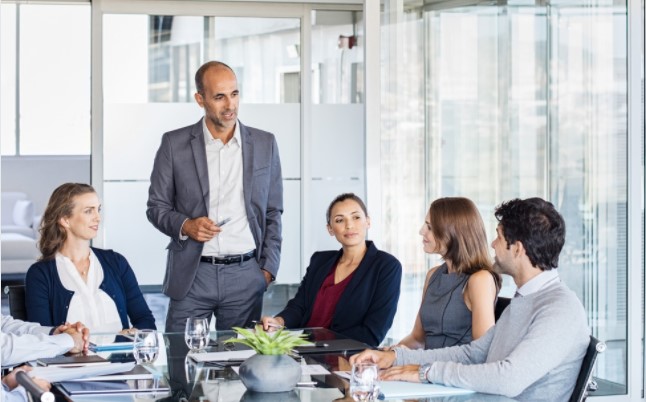 We get it. You're busy, your SMT team are busy and there are probably lots of other ways you'd rather spend a few hours than in a board meeting that feels routine, lacklustre and never quite drives direction. But this doesn't have to be the case.
Board meetings can (and should) inspire, drive future strategy and keep everyone informed across your business. The secret? They just need to be run well.
With that in mind, here are 10 quick but highly effective tips to make your next board meeting run better.
You can also read our blog on running shorter meetings
Get the timing right
About a week before your board meeting, review the action points from the previous meeting. Completed or outstanding actions will impact the flow and focus of your next board meeting, so don't skip this step. This is also a good time to give people who haven't completed their actions yet time to do so, without any naming and shaming in the meeting itself (in itself always guaranteed to throw a meeting off track).
Cover your meeting basics
It sounds boring, but getting the meeting basics right is the foundation for any great board meeting. And that means making sure any meeting software you'll need is set up, the boardroom is booked and everyone who should be invited is. Getting these meeting mechanics right can sometimes seem almost too obvious, but doing so will ensure you're not wasting valuable agenda time sorting these out.
Put together an agenda that focuses on the right things
A board meeting agenda is essential to keep the meeting focused, but there's an art to crafting one that maximises everyone's time and adds real value. Additionally, a great agenda will make sure there are no surprises, as well as allow discussion to drive strategy and action.
Plan a balanced agenda. You want to strike the right tone between reviewing information, but also providing the opportunity for future decision making without endless 'updates' (these can be done outside the meeting). Read our blog on a typical board agenda.
Allocate the right owners to each agenda item. Think about everyone's expertise, experience and ability to drive discussion when you're allocating agenda items. You want to create the perfect mix for an interesting, strategy based board meeting.
Allocate timing to agenda items. This is a controversial subject with some advocates pointing to the benefits of increased focus and the detractors claiming it removes creativity. Read our blog article on the merits of agenda timing.
Read the full Board Meeting Guide
Think about mixing things up
While we're talking about the agenda, take time to think about if you can mix the agenda flow up a bit. For example, would AOB work better at the start of the meeting? This way, any items which have the potential to influence the rest of the agenda plan are discussed up front. It also makes sense to place the most pressing and important issues higher up the running order, ensuring everyone's maximum focus and accurate time to discuss.
Make sure reports are circulated before the meeting
Board meetings are better when everyone's had time to review information and no one needs to sit through a slide-by-slide data review in the meeting. So, once you have the agenda items and the owners for each of these, request any board reports that are needed are written in advance.
Preparing and circulating board reports ahead of the meeting will give everyone time to read, understand and clarify information ahead of time - allowing the board time to discuss and drive strategy in the meeting, rather than sit through presentation reviews.
Request information, not data
We've all sat through board meetings where pages of graphs and tables are presented as raw data, without analysis or interpretation. It's a guaranteed way to turn board meetings solely into dreaded update sessions, effectively wasting everyone's time. Without valuable context it's just not that useful.
To avoid this, ensure you ask for information when it comes to board reports, not just data. This will allow you to get to the point quickly for engaging discussion, rather than analysis which can be done outside the board meeting.
Take accurate minutes
One key way to help your board meetings run better is to take accurate minutes. Effective recording of minutes is not only a legal requirement as stated in the Companies Act, but it also ensures that action points will be taken forward with owners, as well as keep the room focused on the agenda. In an SME, the minute taker can often be one of the directors, which has the benefit of reducing the need for a review and approval process. Read our blog on why you should take board minutes.
Whether the minute taker is the chairperson, board secretary or another director, it's important to make sure they're a confident minute taker, using minute taking software if necessary.
If you want some tips then read our blog on taking better board meeting minutes.
Handle objections well
Creating the right agenda and environment for robust discussion means that board meetings can sometimes be challenging. This can lead to difficult conversations and often, objections. As chairperson, it's important to handle these well and not to let the meeting get side-tracked or lose focus.
Dealing with objections well includes:
Acknowledge the person who's raised the objection
Empathise with and understand the objection
Offer to discuss the objection/ issue after the meeting
Use the objection as a time to take a break, giving the meeting time to re-focus
Set clear expectations about interruptions
There's nothing more irritating than email notifications pinging or calls on mobiles in the middle of a board meeting. As well as being rude, they also have the power to set a meeting off track and distract everyone in the room. Set clear expectations from the beginning regarding what you expect with regards to mobiles, laptops and interruptions - your board meeting will run much more smoothly as a result.
Finally, think about your tone too
As the chair person, you carry a lot of responsibility for the tone and direction of the meeting. You don't need to go crazy or put on a completely OTT act, but if you present a confident, well-briefed and action-oriented attitude, your board meeting is much more likely to run better. Think about how you open and close the meeting too – confidence and conviction are important.
For an in depth guide to running better board meetings, download our Good Board Meeting Guide here.